Fungating Tumors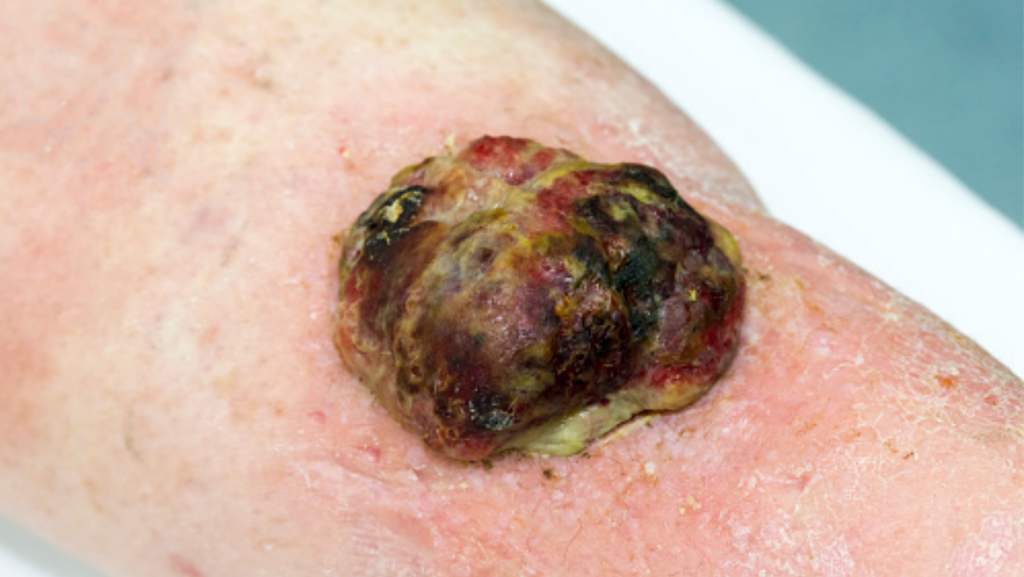 Also known as fungating wounds or ulcerating cancer wounds, fungating tumors are growing tumors due to complication of cancer, that is growing disfigurement under the skin with extreme pain and odor. The growth of the tumor beneath the skin blocks oxygen supply and blood vessels in the area, causing infection and uncontrollable tumor growth. Fungating tumors are caused by infiltration of the tissues, skin, blood or lymph vessels by a metastatic or tumor deposit. The objective of fungating tumors is to manage the wound and here are the symptoms, characteristics, risks and treatment for fungating tumors.
Symptoms of Fungating Tumors
Fungating tumors occur most commonly on the breast, neck, head or arms of cancer patients. Healing of these wounds is not the objective as much as managing or extraction when growth is substantial. These wounds are many times chronic and tough to manage. A fungating tumor can start as a red shiny lump on the skin and the wound will often get bigger and form holes.
These ulcerating cancer wounds are rare, around 5-10% of cancer patients will develop fungating wounds. It is more likely to happen with women who have breast cancer. This is because these tumors develop on the skin and tissues.
The symptoms for fungating tumors include:
Itching
Bleeding
Extreme Pain
Oozing from Wound
Heavy Odor
Treatment for Fungating Tumors
When you're looking at a fungating tumor, you're also looking at a growing cancer that needs treatment. Treatment depends on the type of cancer, the area it's forming on the skin, and the size it has reached when treatment starts. Common forms of treatment for fungating tumors include chemotherapy, hormonal therapy, radiotherapy, and wound care surgery. At the point of treatment, you would meet with your doctor regularly to check up on the wound and suggest treatment options. Essentially healing the wound is not an option as cancer itself has no cure, especially for a fungating wound. These wounds will often include supervision by the patient and care takers that include physical, psychological and social support.
If your seeing a wound care specialist, common fungation treatments include:
Surgical removal
Wound Cleansing
Wound dressing material
Substitute skin attachment
Skin Grafting
It is vital for patients with a fungating tumor to be self-aware and understand the impact that it may have in life moving forward. Patients may feel isolated and depressed due to the nature of the unhealing wound, but should not be discouraged as there are growing treatment options that a wound care specialist may go over. Mental health therapy is often recommended with support groups and counseling.
Wound Care Specialist For Fungating Tumors
If you're looking for a fungating tumor specialist, then you should call the Wound Institute of America, located in Beverly Hills, California. Doctors will create a custom treatment plan depending on your examination of your fungating wound and suggest what the options are. Depending on the tumor location, type, and size, the doctors at Wound Institute of America will help you manage the fungating tumor. For more answers to your questions, please contact us on our support page with your current diagnosis. The Wound Institute of America is one of the top wound care centers in California and provides the utmost care to patients and their needs.